£25 Cash Prize For You Hitting Your Personal Goals
It's competition time!  Bring on the fat burn!  Beat the scales!  Drop a clothes size or two!  Are you disciplined, committed and motivated to reach your pinnacle goals?
Would you like all your friends, family and colleagues to say: 'Wow, you look amazing. How did you do it?'
Would you like us to give you £25 cash to look and feel amazing?  That would be nice wouldn't it!  Well, you can have all the above by entering our health challenge / competition.
6 Week Challenge – Terms and Conditions
1. You have to get on our super scales for a starting point.
2. We will take your measurements for a starting point.
3. We will take a proper professional before photo.
4. We will sit down together and examine your current lifestyle and commitments and then set you two or three short term achievable 6 week targets.
For example:-
– Lose 7 pounds
– Decrease body fat by 4%
– Decrease metabolic age by 7 years
– Decrease visceral fat by 2 levels
– Increase hydration by 3%
– Increase muscle mass by 3 lbs etc
These targets will be individual and different for everyone.
5. After the 6 week period we will re-weigh, measure and photo you for the after results*.
6. If you have achieved or smashed your goals then we'll hand you a certificate and £25 cash prize to spend on whatever you like.
 *6a. If you are very close but haven't quite achieved your personalised targets then we will work on a way to change your diet, lifestyle and exercise routine and you can come back in a fortnight and hopefully win the cash prize then.
7. All we ask for in return is that if you are happy with your results you would be kind enough to write us a testimonial and give us permission to use your photos on our website and on Facebook.
Your committing to the 'super weigh-in' and the 'before photos' will spur you on to have the healthiest and fittest 6 weeks of your life.
After the 6 weeks of hard work and discipline you will have a real sense of achievement and a much easier task in maintaining your new super body and fitness and a great start in working towards your long term goals.
Commitment and Attendance = Results!
Here at Get Fit Boot Camp we are dedicated in ensuring you achieve excellent long-term results, which is why we started our Group Personal Training Programme which is much more inclusive than just exercise by itself.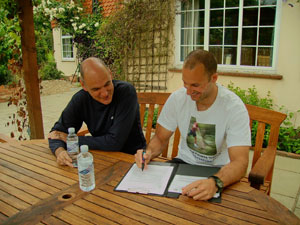 Super Weigh In
Exercise is great for your health and fitness.  It will help you achieve your goals in the long-term but there are several other important factors which can help you achieve good results quicker and easier and help you to maintain them for the rest of your life, such as:
Lifestyle – do you get enough sleep or are you too stressed – do you sit at a desk all day?
Diet – is what you perceive to be a good diet actually working for you – check your results on our scales?
Hydration – do you intake too much caffeine… this will dehydrate your body and increase your body fat?
Modern research – up you up to date with the current fat loss trends such as eating little and often?
Sports – are you training for a special event? If yes, then you'll need to fuel your body like an athlete.
Our one-to-one Wellness & Lifestyle Evaluation lasts 45 minutes and is worth RRP £45 and once every 6 weeks you can benefit from a Body Analysis & Wellness Check up which lasts 15 minutes and is worth RRP £15.
We use the most accurate portable scales in the world and they can provide all the useful information shown in the right hand column. The super weigh-ins are currently undertaken by Rob and Claire at their family home in Merrow Park, Guildford – directions will be provided after a date has been arranged.
Please e-mail us some suitable days and times that work for you and we will check our diaries and arrange a date. If we are not personal training directly before or after a boot camp we normally have availability then and we also normally have availability straight after a super Sunday session.
Body Weight

Body Fat %

Body Water %

Muscle Mass

Physique Rating (standard = 5)

Basal Metabolic Rate (BMR)

Metabolic Age (the lower the better)

Bone Mass

Visceral Fat

Body Mass Index (BMI)